Turnout Control Panels
by Charles R. Hentz
Here at Garden Spot Village we press a button(HO) or a toggle switch(O) to move our turnouts. The bicolor LEDs on our panels easily show a path of green lights where the train is clear to go.
We construct our turnout control panels using 1/8 inch white tampered hardboard for the base of the panel. On top we place a sheet of poster board with a hand drawn stylized layout using black ink marker lines showing the track. On the top of this is a 1/8 inch clear Acrylic plastic sheet that is used normally for picture frames. We drill holes through this sandwich for the push buttons, 5 mm bi color LEDs and screws at all corners. The plastic protects the diagram from wear from fingerprints. This also allows us to slip in new poster board to make changes in the layout as needed without having to redraw a new diagram.
This panel is hinged to lift up for access to the wiring on the back and in our case to reach the tracks below as we straddle three tracks to save room. We use 12VDC Tortoise Motors to throw our turnouts powered by surplus computer power supplies. The push buttons activate our DS64 Digitrax Stationary Decoders that can also be accessed via our smart phones or computers using our JMRI Java Model Railroad Interface.
.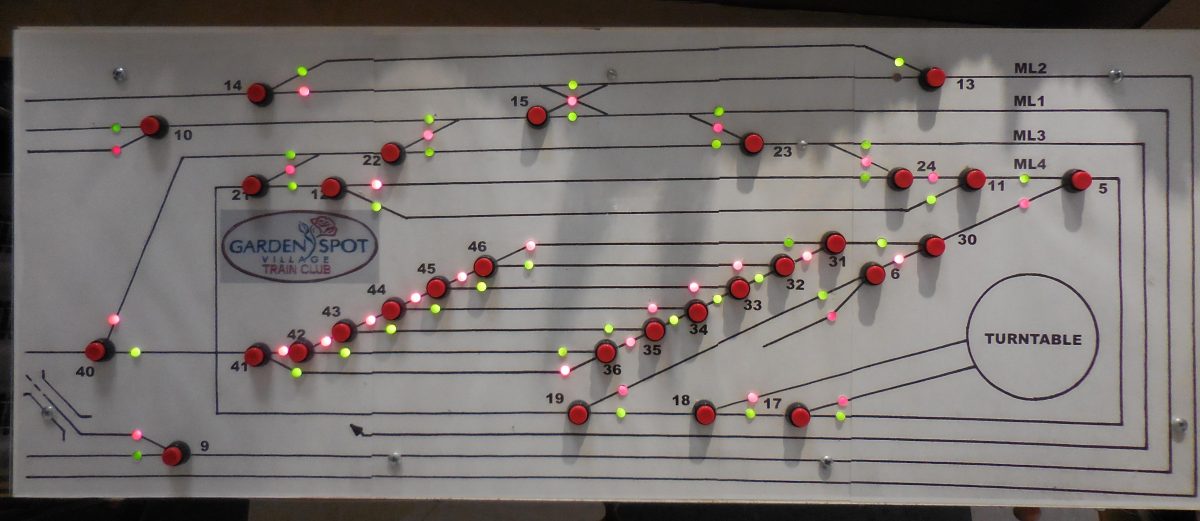 Below is our new touch screen panel with backup push buttons on the right.  By using your finger to lightly touch any circle on the screen, the turnout will activate and show the new position.